Welcome to the Entopia Building, CISL's ultra-sustainable home in the heart of Cambridge.
From the outset, the Entopia Building project aspired to demonstrate and highlight how global trends and challenges can be addressed meaningfully at the scale of a single building. The building embodies our mission to develop leadership and solutions for a sustainable economy.
The resources shared on this page document the innovations, best practices and new insights that emerged from the project. You can find a detailed, technical case study outlining the goals, methodologies, outcomes and learnings from the project, as well as a shorter summary offering insights into the key features of the building.
The Entopia Building houses the Canopy; a new Cambridge community for entrepreneurs, startups, innovators and small businesses pioneering sustainability innovation.
With a reputation as one of the most environmentally burdensome industries, the built environment sector needs to find a way to lead the transition to a sustainable economy. Through the Entopia Building, we are demonstrating the multitude of benefits that can be delivered by re-purposing existing building stock. By targeting ambitious sustainable building standards including BREEAM (Outstanding), the Passivhauss 'EnerPHit' standard (awarded in July 2022), and WELL (Gold) certification, alongside the application of 'circular economy' principles, this project has achieved its goal in delivering an exceptionally efficient home for CISL and the Canopy incubator that places wellbeing at its heart. 
Key objectives included:
Radical improvements in the building's energy efficiency
Minimisation of whole-life embodied carbon
Prioritisation of circular design principles
Maximisation of bio-based materials and nature-positive design solutions
Adherence to responsible procurement practices
Careful attention to indoor environmental quality, health and safety concerns, social and community value, and heritage conservation
Attention to economic concerns, including opportunities for employment and decent jobs, training, knowledge creation, and knowledge exchange
"The fact that the Entopia Building uses dramatically less energy than its predecessor is a success in its own right; that it has minimised the use of new materials through circular design and concurrently reaches three challenging building standards, is exceptional. Its true impact is still to come, however, through its role as a beacon project: an exemplar and teachable resource that creates positive ripples of change throughout the built environment community, influencing the course of other projects, policies and investments."
Entopia Communications Working Group
"The Entopia building embodies in its architecture and design CISL's ambition to inspire leadership and solutions for a sustainable economy. By offering a space that brings together academics and business leaders, and by offering a space that will soon house startups and small businesses, the building is creating a real community dedicated to embedding issues of sustainability in business leadership."
Professor Anthony Freeling, Acting Vice Chancellor, The University of Cambridge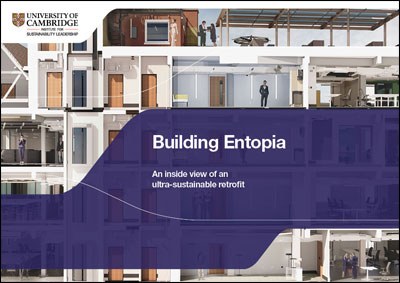 This summary report detailing the project goals, design
decisions, and technical features of the Entopia Building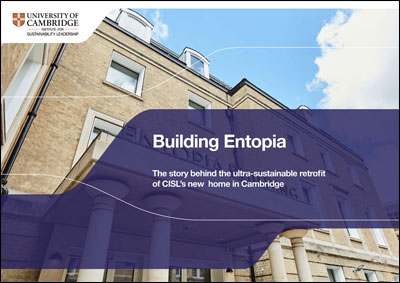 This in-depth, technical case-study provides a detailed account of the project's early stages, challenges, outcomes and learnings.
---
Project partners
---