25 January 2016 – A new report commissioned by the Cambridge Institute for Sustainability Leadership and leading UK companies presents practical measures that could deliver a more sustainable dairy industry.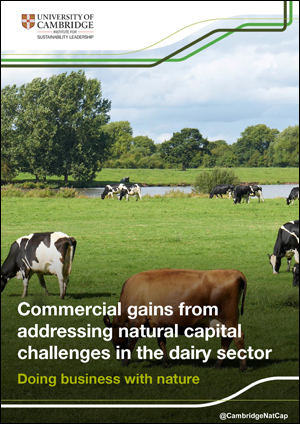 The report 'Commercial gains from addressing natural capital challenges in the dairy sector'  is an important first step in understanding how to create a more sustainable dairy industry in the UK.
Produced jointly by the Natural Capital Leaders Platform, hosted by the Cambridge Institute for Sustainability Leadership, and leading UK companies including Anglian Water, Glanbia, Nestlé, Lactalis McLelland, Volac and Yara, the report shows that many current practices in the dairy industry are depleting the very natural capital on which the sector depends, by impacting water supplies, reducing biodiversity and degrading soils.
Representing different perspectives upon the dairy value chain, each participating company, which work together through a Dairy Action Research Collaboratory, recognised that more sustainable use of natural resources would create a more resilient dairy industry by providing opportunities for increasing productivity, reducing input costs and mitigating risks.
Existing approaches were evaluated to highlight the practical management interventions that could, if adopted at scale, help halt degradation of water, biodiversity and soil, and deliver benefits to farmers and the public. The report finds that, by investing in evidence-based management interventions that enhance natural capital, companies would be better able to protect the long-term security of their supply chains, sustain commercial growth and create additional social benefits.
This is a particularly timely piece of research as the UK Government is developing two long-term visions on agriculture and natural capital. By demonstrating how industry can prioritise practical measures that link long-term commercial benefits with protecting the nation's natural assets, the report aims to inform the discussions about the 25-year Plan for Food and Farming and the 25-year Environment Plan.
The report was launched at the House of Lords on 25 January 2016, at an event that brought together farmers, businesses in the dairy value chain and policymakers.
Collaboratory members: