Our Board Programmes are designed to enable board directors to think critically about their role and responsibilities, so that they can provide the strategic leadership that the external context urgently requires of them. We combine deep insight into material social, economic and environmental systemic trends, and clarity about the pace and scale of transformation required across key sectors, markets and regions, with an understanding of commercial imperatives, evolving drivers and enablers of change, and leading practice and thinking. The Board of the Future is one that is well informed about the external context and system pressures so that it can pose the right questions of the company's executive team, and which has the skills and mindset to enable it to provide the direction and oversight that the company needs to secure its long-term resilience, while contributing purposefully to human well-being and a thriving economy. 
Our customised board programmes support Boards to integrate profitability with sustainability by defining the organisational
purpose of the company. They offer credible, independent and effective approaches to inform corporate Boards about the implications of climate change and inter-section with the wider social, economic and environmental trends that will impact
long-term corporate performance. Through consideration of
material risks, opportunities and impacts, and providing insight
into transition pathways and commercially-viable solutions, we
help Boards reset their governance so that they can provide the strategic direction and oversight that their executive teams need
in order to contribute to progress towards a thriving economy.
Find out more about our Customised Board Programmes.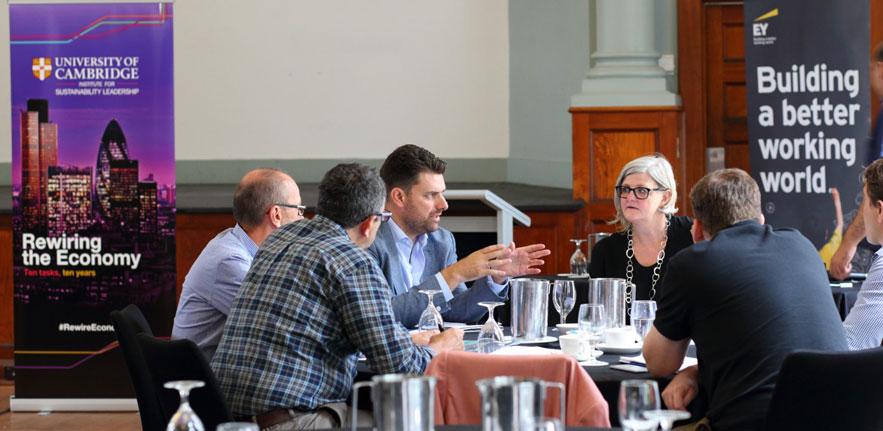 Designed in collaboration with Earth on Board, specifically for the needs of non-executive directors, our open programmes draw on the University of Cambridge Institute for Sustainability Leadership's 26 years of experience in building leadership capability. The seminar, which takes place in Singapore and Melbourne, explores the purpose of boards today, and the specific strategic issues that global challenges pose, providing a safe space for individual learning, expert guidance and exchange among peers. It equips non-executive directors to challenge and guide management, form strategic responses for their company, and establish priority actions for the board, in relation to sustainability trends. Find out more about our Non-Executive Director Programme.
Partners
We collaborate with Earth on Board on our board education programmes. Earth on Board is an ecosystem of sustainability actors dedicated to helping organisations achieve an Earth Competent Board: Where board members are proficient in sustainability, with the right governance, asking management the right questions.