11 February 2016 – A new Cambridge Institute for Sustainability Leadership report, produced jointly with leading global businesses, addresses natural capital challenges in the cotton industry that impact all actors, from farmer to retailers.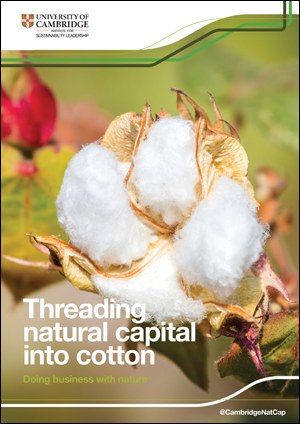 The report 'Threading natural capital into cotton: Doing business with nature' is the result of an unprecedented partnership between seven leading companies and the Natural Capital Leaders Platform. They worked together with cotton initiatives and cotton experts as part of a Cotton Action Research Collaboratory (ARC), with the aim to ensure that producers are able to meet future demand for high quality, ethically sourced and sustainably grown cotton.
The report presents 15 different management interventions and provides evidence of their positive natural capital impact. This assessment can support business decisions and help companies to make informed discussions so that cotton supply chains can be secured for the future. The report focuses on water, biodiversity and soil particularly at the growing stage of the supply chain where natural capital challenges are most prevalent.
The report is complemented by an online tool, created for businesses along the cotton supply chain to engage in conversations around the natural capital impacts of 15 different practices. The tool is based on a technical report that challenges current management interventions by providing a robust systematic review of scientific and accessible evidence.
The cotton industry is dependent upon natural capital. Sustainable cotton production requires healthy soils and biodiversity as well as access to sufficient water to provide for the crop's needs. These influence the quantity and quality of cotton yields as well as the crop's ability to cope with stresses such as drought or pest infestation. If poorly managed, these factors can combine to threaten cotton supply chains and prices, as well as impact farmer livelihoods.
There are some excellent examples of progress in managing natural capital to create sustainable and resilient cotton supply chains; however, there is a need to strengthen and accelerate this progress.  By revealing the evidence of positive natural capital impacts from different management practices businesses can go further in securing sustainable supplies of cotton. This evidence base needs to be collated so that positive actions can be extended and applied to support cotton's sustainable future.
The study focuses on natural capital but acknowledges the broader sustainability issues, such as poverty and socio-economic resilience within which it sits. It is clear that there are opportunities to reduce negative natural capital impacts and thus reduce business vulnerabilities and risk.
This work is a first step towards assembling the appropriate evidence for best practice around sustaining natural capital and will help businesses to have informed discussions with their supply chains and farmers for resilient cotton production.
Collaboratory members: