17 April 2020 – A new report from The Natural Capital Impact Group introduces a Biodiversity Impact Metric to help businesses manage their supply chain risks associated with nature. Highlighting the important role of the private sector in protecting and restoring biodiversity, the report is published in the midst of a global pandemic which has, in part, been caused by the breakdown of our relationship with nature. This report has been designed to help companies increase their resilience to such shocks by understanding the impacts they are responsible for and considering the benefits of restoring biodiversity and nature.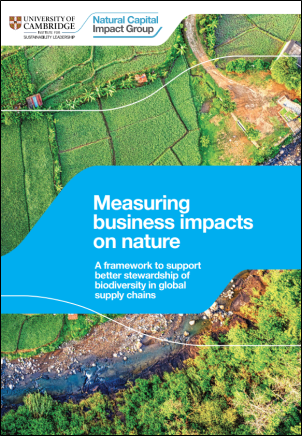 As the world gets to grips with a global pandemic, global retailers and businesses of all sizes are working to ensure their short and long term viability. Whilst their immediate efforts are focused on playing their part in the societal response, companies must also continue to think and act for the long term. In any version of a sustainable future, there will be a fundamental need for companies to play their role in valuing, restoring and protecting the natural world on which we all depend.
The crisis has exposed the complex and international nature of the supply chains that business and society depend upon. Many businesses have pledged to source key ingredients and raw materials in their supply chains responsibly. However, directing action and monitoring progress against these commitments has been slowed by a lack of appropriate, accessible metrics.
The University of Cambridge Institute for Sustainability Leadership (CISL), through its Natural Capital Impact Group, identified a need for a high-level metric that could provide an indication of a business's impact on biodiversity in different regions of the world.
This report describes the Biodiversity Impact Metric, a practical risk-screening tool for supply chain businesses that source agricultural commodities. The approach allows businesses to proactively manage risks relating to the degradation of biodiversity and its wider societal impacts. By highlighting potential high-risk commodities, contexts or practices, businesses can prioritise where to act.
For those companies that demonstrate leadership there are clear opportunities to reduce risks, increase differentiation and resilience. In addition, by safeguarding the wider benefits biodiversity and nature provide to society, a company can ensure their licence to operate is maintained.
Gemma Cranston, Director, Business and Nature of CISL, said:
"It is vital for the environment, for us and for our economies that businesses proactively protect and encourage biodiversity to flourish; this requires a deeper understanding of where their practices are damaging nature."
Andrew Murray, Asda's Chief Customer Officer and Chair of the Natural Capital Impact Group said:
"I firmly believe that in future business will be held accountable for its use of and stewardship of nature. Approaches like the Biodiversity Impact Metric will help Asda and other businesses to advance their understanding of the connections between nature, their supply chain, consumer demand and the future value of their business."
About
The University of Cambridge Institute for Sustainability Leadership (CISL) led the authorship of this report, with contributions from the Natural Capital Impact Group, The Biodiversity Consultancy, BirdLife International and The United Nations Environment World Conservation Monitoring Centre.
Supplementary information on the Biodiversity Impact Metric is available here.
Citing this report
Cite this report as: University of Cambridge Institute for Sustainability Leadership (CISL). (2020, April). Measuring business impacts on nature: A framework to support better stewardship of biodiversity in global supply chains. Cambridge, UK: University of Cambridge Institute for Sustainability Leadership.
---
Creating the future we want
The shock to the global system caused by Covid-19 means that the decade that we earmarked for getting our climate on track for net zero by 2050 and making progress on the UN Sustainable Development Goals will play out in a new paradigm, where transformational change takes on wholly new possibilities.
The pandemic has revealed lack of resilience in a system which has already failed to meet the needs of millions of people and is unprepared for future shocks driven by climate change and environmental degradation. This raises big questions about our established economic and societal norms.
We can undoubtedly emerge as a stronger global community and more resilient society if we now seize the opportunity to collectively chart a course towards the future we want.
CISL is launching a new platform for leaders to identify, discuss and reflect on some of the most important questions facing us, as we deal with an immediate threat and consider what is needed to secure a long term sustainable future for all.
Subscribe to our newsletter to be among the first invited to participate in The Future we Want platform.
---