January 2019 – Incorporating the Planetary Boundary framework into business decision-making can help companies understand the consequences of their environmental impacts at a global level and provide a critical new perspective on how to tackle their impact.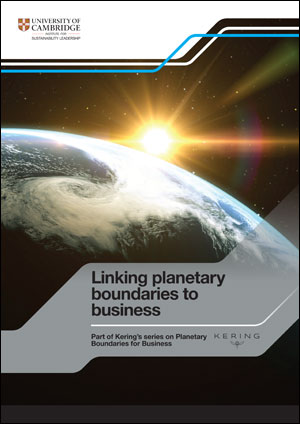 Companies are increasingly seeking to reduce their environmental impacts, increase resource efficiency and mitigate risks from climate change. The Planetary Boundary framework offers a new approach for the business community to set science-based corporate targets and make meaningful decisions to help restore a well-functioning planet.
The nine planetary boundaries, developed by the Stockholm Resilience Centre, provide the parameters for the planet to maintain a stable state, fundamental to supporting contemporary society. Translating and applying the planetary boundaries at a corporate level will enable businesses to better prioritise and focus their sustainability efforts.
About
This first White Paper in Kering's series on Planetary Boundaries for Business aims to provide an informative, lasting discussion around using the planetary boundaries framework in the context of corporate sustainability. A key recommendation from this White Paper is the importance of companies considering the opportunities and limitations of 'downscaling' and 'upscaling' the planetary boundaries framework to enhance their sustainability strategy and decision-making.
This report explains that linking the planetary boundaries to business is a valuable opportunity and presents a pathway to creating a new, more robust agenda for managing and mitigating global environmental impacts.
Citing this report
Please refer to this White Paper as: University of Cambridge Institute for Sustainability Leadership (CISL). (2019, January). Linking planetary boundaries to business: The first White Paper in Kering's series on Planetary Boundaries for Business. Cambridge, UK: Cambridge Institute for Sustainability Leadership.