February 2018 – Urgent action is required by business, government and consumers to create a transformational shift in the way we consume and use single-use plastic to stop the flow of this material into the natural environment. This case study explores how Sky has taken action to remove single-use plastic from its business through its strategy, leadership, management and engagement.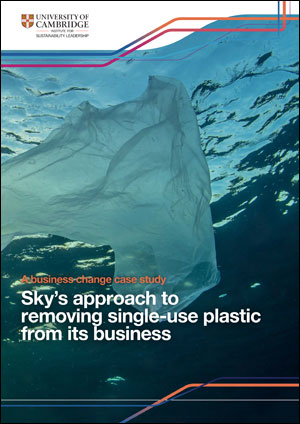 In early 2018, Sky commissioned CISL to undertake an in-depth review to establish what the business had done towards meeting its commitment to remove single-use plastic and how it had undertaken the work. The aim was to capture Sky's own 'story of change' and to build a case study that captured the key elements of the transformation. As one of the first companies to set such a commitment, Sky hoped to inspire and encourage other businesses to take action through learning from how it had met its commitment.
The single-use plastic challenge for business
An estimated 89 per cent of all plastic entering the ocean is from single-use plastic. These items are designed to make our lives more convenient. However, if they are not disposed of correctly through well-managed waste and recycling systems these items can enter the natural environment, where their durability means they can take many decades to break down, posing a potential hazard to human and animal health.
Every part of society has a role to play in reducing the leakage of single-use plastic items into the natural environment. Consumers can change their behaviour through choosing alternatives to single-use plastic or when they do choose to use them, disposing of them responsibly through recycling or waste collections. Government can support through policies that incentivise and enable businesses to take action across value chains to remove single-use plastic and increase adoption of design that supports a circular approach through improving collection and recycling infrastructure. Businesses can seek to reduce the volume of single-use plastic flowing into the economy and therefore reduce the volume used by consumers that could potentially leak into the natural environment.
In October 2017, Sky was the first company to set a target to remove all single-use plastic from its operations, products and supply chain by 2020. During 2018, it removed 175 tonnes; by 2022, Sky projects it will have removed an estimated 2,000 tonnes in total of single-use plastic.
Transferable learning: how businesses can act to remove single-use plastic
The Sky case study shows that it is feasible to take action on single-use plastic across a business to help slow the flow of this material into the economy. Based on the study of Sky, it recommends the following process for companies seeking to reduce their use of single-use plastic: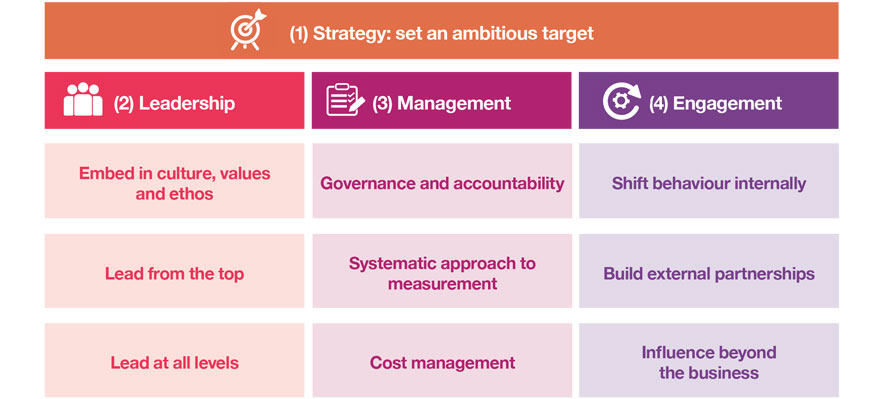 Using the proposed approach above can accelerate change within a business. All three elements underlying the strategy are essential; if one is less apparent this could affect the ability of a business to deliver against its commitment. As part of this, an agile process of design, construction and testing may be required to identify alternatives, including trial and error to test ideas.
While it is possible for businesses to eliminate or make significant reductions in the use of single-use plastic, for some areas, such as health and safety, security or needs-led use, removal may be more challenging, especially for businesses where these items are part of their core product offering. However, if we are to meet targets such as those set out by government and those within the UK Plastics Pact and The New Plastics Economy Global Commitment it is essential that businesses take action now.
We hope that more businesses will follow Sky's example and take action to address single-use plastic use in their business, and that the proposed approach will support them in implementing their commitments.
Citing this report
Please refer to this case study as: University of Cambridge Institute for Sustainability Leadership (CISL). (2019, February). A business change case study: Sky's approach to removing single-use plastic from its business. Cambridge, UK: Cambridge Institute for Sustainability Leadership.