Traditional academic-led, long-duration research models are not well suited to supporting decision-making in organisations. New models are needed which incorporate processes of co-design, co-delivery, synthesis, evaluation and translation (transdisciplinarity), and few institutions are better placed to contribute to solutions than the University of Cambridge. The bridging role played by CISL between the University and our external partners places us in a unique position to take this approach.
Our approach
---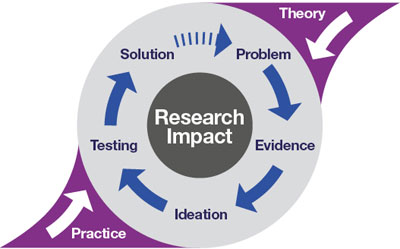 Research at CISL is 'challenge-led', rooted in real-world problems experienced by practitioners in business, government and financial institutions. Our clear 'problem-focus' delivers short- to long-horizon research programmes with defined pathways to meaningful impact.
The co-creation of research with our community and the explicit use of evidence, methods and data allows CISL to understand both the challenges of sustainability and shifting public awareness in order to future-proof businesses and guide practitioners. CISL's unique approach enables us to work on knowledge-driven solutions that address system-level challenges.
Applications in practice
---
Research plays an essential role in underpinning efforts to identify opportunities for businesses and wider industry in the face of climate change and social inequalities. These efforts have become particularly relevant in the wake of COVID-19, and global attempts to grapple with the question of how to 'build back better'.
Our research is intended to strengthen the impact of business, government and financial institutions by informing their transition to a sustainable economy, herein defined as a net zero, circular, restorative economy within an inclusive, resilient society exhibiting high levels of social and environmental justice. As part of our commitment to enacting real-world change, we have identified five 'applications in practice' which drive research at CISL:
Future risk and opportunity - A better understanding of sustainability risks allows companies to convert them into opportunities.
Business strategies and models - Sustainable business models enable companies to go beyond financial success into purposeful impact on society.
Measures, targets and disclosure - Key to trust is transparency, and sustainability provides the perfect performance framework.
Culture, capacity and leadership - Seeing problems differently demands leadership, yet this is exactly what companies must do to become agents of positive change.
Social and political change - Companies can use their influence to drive sustainability, aligning their ambitions with long-term value creation for society.
Research Governance
---
Prince of Wales Fellows are appointed and supported by an independent Research Oversight Committee (ROC), comprising members of CISL's Management Board and senior professors across the University, as well as colleagues co-opted for specific expertise. Current members of the ROC include:
Professor Tim Minshall (Dr John C Taylor Professor of Innovation & Head of the Institute for Manufacturing)
Professor Carol Brayne CBE (Professor of Public Health Medicine in the Department of Public Health and Primary Care)
Professor Jennifer Howard-Grenville (Diageo Professor in Organisation Studies, Judge Business School)
Professor Bill Adams (Moran Professor of Conservation and Development and Fellow of Downing College)
Ethical Code for Research
---
CISL is a department in the School of Technology and as such follows the School's process of ethics and integrity review for research. All processes and policies have been reviewed and approved by the University Research Ethics Committee (UREC). Our Ethical Code for Research and ethic self-assessment checklist  and risk self-assessment checklist are applicable to all CISL-led grant or donation funded research.