Testing carbon pricing in Brazil: 20 companies join an innovative simulation
Nicolette Bartlett
10 December 2014
---
Developing effective carbon pricing mechanisms can and will play a key part in tackling climate change, facilitating the much needed investment cost-effectively and at scale. Specifically, "cap and trade" policies or emissions trading schemes (ETS) have been widely adopted in recent years because of their potential to foster greenhouse gas emissions reductions.
Over the past few years, carbon pricing has risen on the corporate agenda – from The Prince of Wales's Corporate Leaders Group's (CLG) Carbon Price Communiqué to the UN Climate Leadership Summit in September, where 73 countries and over 1,000 companies came together to publically lend their support for carbon pricing. Here at COP20 in Lima, many businesses and civil society organisations are asking what role carbon pricing will have in the Paris 2015 Climate Agreement.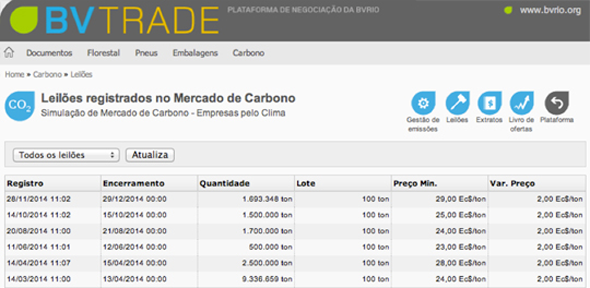 One Brazilian business group that CLG has been partnering with is taking a novel approach. Empresas Pelo Clima (EPC) implemented an ETS Simulation using live corporate data to engage Brazilian companies in discussions around what a robust cap and trade market might entail and how it could be designed and implemented. The ETS Simulation is delivered in partnership between the Rio de Janeiro Green Stock Exchange (BVRio – Bolsa Verde do Rio de Janeiro) and EPC through the Center for Sustainability Studies of the Business Management School at the Getulio Vargas Foundation (FGV-EASP).
I have been privileged to serve as part of their international Advisory Council, and it has been amazing to watch the project develop and flourish. The three-year project has the following goals:
Co-create the parameters of the ETS with the companies.
Simulate a Brazilian ETS based on live company data.
Assess the effectiveness of the pilot.
Develop a set of proposals for the design of an ETS for the Brazilian government.
Engage with business groups in other regions, fostering knowledge sharing and exploiting potential synergies.
Twenty companies, including local and regional companies, along with global corporates voluntarily participated in the first round of the cap and trade ETS Simulation.
The Simulation included aspects of two carbon market systems, including auctioning and bonds markets and assessment of company emission submissions, as well as fines for non-compliance. This first cycle of the simulation has been analysed, and the results are being used to refine the simulation for continued testing in 2015. The aim is to expand the scheme to include many more companies.
To me, the project is an example of how a group of Southern companies are clearly demonstrating their leadership and are blazing a trail for others to follow.
The project is providing the space to unlock and facilitate conversations between companies and the government around how a carbon market in Brazil could potentially work. It is helping to build capacity within the companies so they can begin to embed carbon reduction activities into their core business strategy. It is also creating momentum within the country in terms of carbon pricing, hopefully speeding the whole process up.
It is especially interesting to note that one of the key lessons learned by many of the participating companies is that, if they succeed within the market, even as a simulation at this stage, they will need to work more closely with their financial and strategy departments. It will no longer be enough for just the sustainability team to simply focus on this.
I think this is a significant indicator of the change that this simulation is already catalyzing. The results of the EPC-ETS Simulation could also have broader connotations, with data collected during the pilot studies being able to inform the design of ETS's internationally. We're working with the World Bank Group and other partners to set up a Carbon Pricing Leadership Coalition, where private and public sector leaders will be working together to learn from carbon pricing systems and simulations like this to advance carbon pricing expertise and use.
I think the Brazil simulation is an impressive example of innovative corporate leadership, and I urge others in this space to follow. Further details on the simulation and its initial results can be found in the EPC-ETS Synthesis Summary Report available for download here (pdf).
The companies participating in the simulation are AES Brasil, Anglo American, Banco, Citibank, Banco do Brasil, Itau Unibanco, Braskem, CCR, Construtora Camargo Correa, Duratex S.A, Eletrobras Furnas, Ecofrotas, Grupo Boticario, Klabin, Raizen Energia S.A, Oi S.A, Sanepar, Suzano Papele Celulose, Tam, Telefonica Vivo, and Vale.
---
Blog first published for The World Bank.