Submitted by H. Hutton on Tue, 07/07/2015 - 16:10
---
3 July 2015 – Angel Gurria, the OECD's Secretary-General delivered an important speech at an event hosted by Aviva Investors, in association with ClimateWise.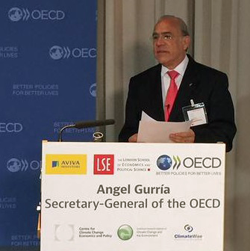 With five months remaining until COP21, OECD Secretary-General Angel Gurria's speech addressed the reasons why we need to make new and renewed efforts in the move towards meeting the climate change challenge.
Angel Gurria identified four key themes that will be necessary for success, looking to the future: specific aspects of government policy and policy implementation; taking a new approach to targets; the true costs of the continued use of coal; and why these things can mean that developing nations have no reason to fear taking part.