全球多股力量推动了中国经济的异军突起,其中一项关键因素是广东省的发展。广东已经迅速发展成为很多全球产品的制造中心,容纳了全中国成千上万的农民工。随着中国开始进入工业化新阶段,并试图从传统制造业和资源密集型发展道路转向更可持续的未来,广东省领导正在为这一"新常态"寻找解决方案。
作为这项任务的一部分,广东省的24位市长、副市长和厅局级干部在剑桥大学CISL和新兴国家研究中心以及伦敦进行了为期三周的学习。该课程旨在探究工业化和技术创新对可持续经济活动的促进作用。
课程根据学员需要进行了量身定制,包含三大要素:全球趋势批判分析、高科技产业未来的能动因素审视,及领导力回顾。
课程结合实地考察、政商学界专家授课、个案研究和小组项目,让这些领导历经三个阶段的学习之旅。最初阶段集中于当前国际趋势和产业、都市形势变化审视。第二周专注"寓学于观",包括一系列实地考察展现英国和伦敦以可持续发展和城市化为重的部分方式。这有助于学员了解第一周学到的很多概念的实际操作,以及方便会见政府官员、与同行交流思想和知识。最后阶段学员将批判性地回顾他们获得的知识,考虑自己作为变革领导人的角色,以及制定自己回省后贯彻实施的行动方案。
课程不仅深化学员思维方式、获得可持续未来的实践理念,还提供了与英国政商两界联络、促进中英两国联系发展的机会。
学员结业须完成一份个人行动方案和一份小组报告。学员给出的评价有:"拓宽眼界"、课程"令人耳目一新,引人思考",以及自己如今"意识到可持续发展的重要性、紧迫性,实施科学发展观的责任"等。
---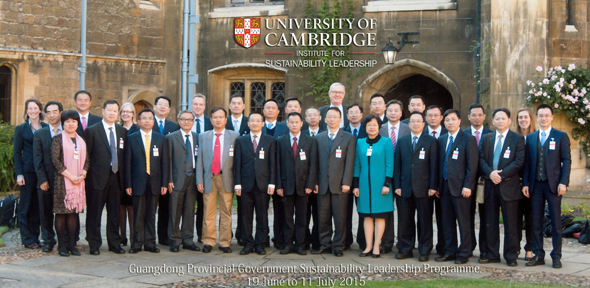 China's dramatic economic rise has been fuelled by multiple global forces, but one of the key drivers has been the development of Guangdong province. Guangdong has rapidly developed into the manufacturing heartland for many global products and the home of millions of migrant workers from across China. As China begins to enter a new phase of industrialisation and looks to move away from traditional manufacturing and a resource-intensive development trajectory to a more sustainable future, the provincial leaders of Guangdong are seeking out solutions for this 'New Normal'. 
As part of this work, 24 Mayors, Vice Mayors and senior departmental leaders from the Guangdong Provincial Government spent three weeks working with CISL and the Centre for Rising Powers in Cambridge and London. The programme was designed to explore the role of industrialisation and technological innovation in promoting sustainable economic activity.
The programme was tailored specifically to the needs of the delegates, and covered three main elements: critical analysis of global trends; review of the enablers of a high-tech industrial future; and reflection on leadership.
The programme combined site visits, expert presentations from within academia, business and policy, case studies and group projects to take these leaders through a three phase learning journey. The initial phase focused on reviewing current global trends and change within industry and urban landscapes. In the second week was focused on 'learning by seeing' and included a range of site visits demonstrating some of the ways in which the UK and London are focused on sustainable development and urbanisation. This helped delegates understand the operationalisation of many of the concepts learned in the first week as well as to meet with government officials and exchange ideas and knowledge with peers. The final phase saw the leaders taking time to critically review the knowledge they had acquired, consider their own roles as leaders of change and develop their own action plans for implementation on return to the province.
Not only did the programme enable the delegates to further their methods of thinking and take away practical ideas for a sustainable future, it also offered networking opportunities with UK business and government further developing the connections between our two nations.
Each delegate finished the programme by completing a personal action plan as well as a group report. Delegates commented that they felt their "horizons have been broadened", that the programme was "refreshing and thought-provoking" and that they now "realise the importance and urgency of sustainable development, as well as the responsibility to implement a scientific outlook on development".