我们的服务 
CISL在中国的工作秉承了我们支持个人与机构成长的一贯宗旨,从而实现应对全球重要挑战的领导力提升。
为达成这一目标,CISL提供针对包括高层领导和省市政府官员的领导力教育课程,研究生项目,以及在线学习。同时,我们与企业合作,开展研究,并发布最新的前沿思想。
十年来,CISL为中国同行提供课程项目,并已在剑桥大学接待了数百位来访代表。我们工作的核心主题是推进新型城镇化与生态文明,为产业转型融资,将可持续发展融入"一带一路"倡议中,并支持工商业在实现经济增长和有效全球化的同时,保护环境并进行韧性建设。
我们将中国的五大发展理念——绿色、创新、协调、开放和共享融入到我们所有的工作中,以帮助领导者更好地实现并超越他们的国家承诺,并在每一领域展现可持续领导力。
CISL是中英贸易协会的成员,并与英国外交和联邦事务部合作开展一系列课程项目。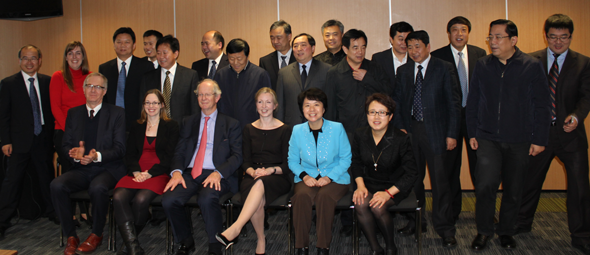 ---
What we offer
Our work with China reflects our mission to empower individuals and organisations to take leadership to tackle critical global challenges.
To support this, we offer executive education, including for senior leaders and officials in city or provincial government, programmes for graduates and online learning. We also engage with business, undertake research, and publish the latest thought leadership.
We have been providing education for Chinese leaders for 10 years, and have now hosted hundreds of delegates in Cambridge. The core themes of our work are new urbanisation and ecological civilisation, financing the industrial transition, integrating sustainability into The Belt and The Road, and supporting industry and business to protect the environment and build resilience while achieving economic growth and effective globalisation.
Across all of our work we integrate China's five development concepts; green, innovation, coordination, openness and sharing, enabling leaders to build upon their national commitments and demonstrate leadership for sustainability in each area.
We are members of China-Britain Business Council and we engage with the Foreign and Commonwealth Office on a number of programmes and projects.