8 March 2019 – HRH The Prince of Wales met with business leaders from the CISL network this week to learn more about how biotransformation technology can help address plastic pollution at scale.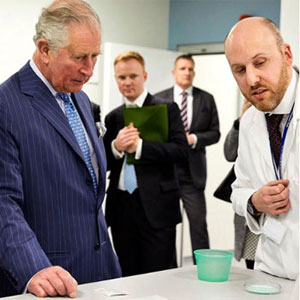 The visit was hosted by Polymateria, a British business developing a new standard in biodegradable and compostable plastics. Biotransformation both chemically transforms the polymer and engages all the natural agents of decay to achieve full biodegradation should it be littered in the natural environment, while also not impacting on recycling, product performance or the supply chain.
Dame Polly Courtice (Director University of Cambridge Institute for Sustainability Leadership), said:
"Clearly, ambitious action is needed to address plastic pollution, something that is recognised by more and more businesses. The solutions will need to be varied, but innovation and new technology will have a role to play. We're pleased to explore how Polymateria, and other innovative start-ups, can help deliver the innovation and solutions needed to address this critical global challenge."
In recognition of the visit Niall Dunne (CEO of Polymateria) said:
"Our team are delighted to welcome HRH to our laboratories as we share HRH's view that so many of our biggest environmental challenges can be better tackled by deepening our understanding of nature. Indeed our Biotransformation technology has been developed here in Britain through biologists, polymer scientists and chemists working together but "back from nature" to create a new standard in biodegradability that will address a big global challenge."
CISL is working with leaders across sectors to address plastic pollution; publishing a business change case study from Sky into how business can remove single use plastic from its business and developing an ambitious roadmap with a group of leading bottled water and soft drink manufacturers to eliminate plastic packaging waste from the bottled water and soft drinks value chain by 2030. Organisations involved in this initiative including Lucozade Ribena Suntory and Natural Hydration Council attended the event.
---
For more information about The Prince of Wales, please visit www.princeofwales.gov.uk