The 'Soft Commodities' Compact was a company-led initiative that worked with the banking industry to help transform soft commodity supply chains.
How the Compact worked 
---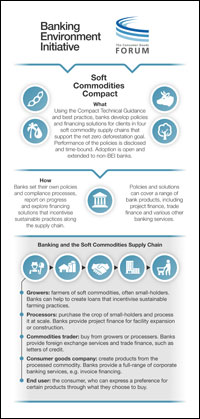 In support of the Consumer Goods Forum's 2010 resolution on zero net deforestation, banks in the Compact set out to reduce deforestation in the supply chains of their client base in four soft commodity supply chains: palm oil, timber products, soy and beef.
Two overarching strategies were applied to achieve the zero net deforestation goal:
Develop banking practices that support finance for initiatives that shift commodity production to sustainable practices.
Raise standards used by the banking industry in their relationships with clients that are involved in these commodities (see Technical Guidance).
Banks who adopted the Compact made their own decisions on if and how to incorporate the Compact's solutions into their own business practices. This flexibility allowed banks to prioritise the actions most relevant to their own particular business contexts.
Bank approaches to implementation
---
Technical guidance was developed to serve as a how-to guide for banks wanting to support the Compact. Elaborating on key terms within the Compact, it offered implementation direction to banks and recommended key performance indicators (KPIs) for banks to consider when reporting on progress.
Using the Technical Guidance and their own methods, Compact banks have adopted more stringent policies and reported progress. The relevant links and documents can be found in the below table. 
---