Dr Kayla Friedman, Programme Manager at the Cambridge Institute for Sustainability Leadership, describes the benefits of the range of accredited postgraduate courses on offer in sustainable business and sustainable value chains.
Postgraduate training in sustainability: a unique opportunity for working professionals
21 February 2017
---
For over 25 years the Cambridge Institute for Sustainability Leadership (CISL) has been working to build leadership capacity to tackle critical global challenges through business action, executive education and accredited graduate programmes. Drawing students from around the world, participants enhance their ability to lead and influence change for sustainability, whilst also gaining an academic award. The strength of the programmes lies in the combination of academic rigour, with an emphasis on practical application and action. With access to cutting-edge interdisciplinary thinking on sustainability from leading Cambridge academics and other thought-leaders, the aim is to build the capacity of professionals to bring about positive change for sustainability within their organisations.
Food and drink manufacturing is evolving. Resource scarcity, climate instability, concerns about labour and human rights and changing consumption patterns are creating unmet challenges and new opportunities. With increasing pressures on supply chains, business-as-usual is no longer an option. Leading food and drink manufacturers are recognising the commercial and societal benefits of better management of natural resources, such as water, soil and living organisms, and of addressing social concerns. As a result, sustainability and/or corporate social responsibility (CSR) is being included across a broad spectrum of job functions, including at the most senior levels. This presents a welcome opportunity for employees, with more companies requiring sustainability professionals to respond to issues in a VUCA (volatile, uncertain, complex and ambiguous) world.
Part-time education targeted at working professionals offers a unique opportunity to develop the leadership responses required to address key sustainability challenges and opportunities and to directly apply that learning to the participants' organisations. Courses, such as the ones delivered by the CISL, give students insight into innovative new approaches and inspire them to take action.
"Part-time education targeted at working professionals offers a unique opportunity to develop the leadership responses required to address key sustainability challenges."
Doing business sustainably
Leading companies have already showcased a range of innovative sustainability initiatives. For example, Nestle, Mars and ASDA are involved in the dairy value chain research co-ordinated by CISL and SABMiller has adopted the circular economy by recovering and regenerating beer waste to close resource loops. However, transforming complex systems requires advanced knowledge and experience and savvy employers are looking for core competencies to deliver both increased resilience and profitability. With numerous employees wanting to work with responsible organisations, competition is great. Millennials, many of whom have gained exposure to sustainability education in their undergraduate programmes, have newfound bargaining power with employers targeting young talent. In contrast, many professionals at midcareer level or beyond have gained practical experience on the job, but may lack the skills and confidence needed to be sustainability champions. To enhance their ability to be positive change-makers, they need access to learning that fits within, and contributes to, their demanding professional lives.
CISL offers four University of Cambridge accredited postgraduate courses all aimed at senior and mid-career professionals and managers.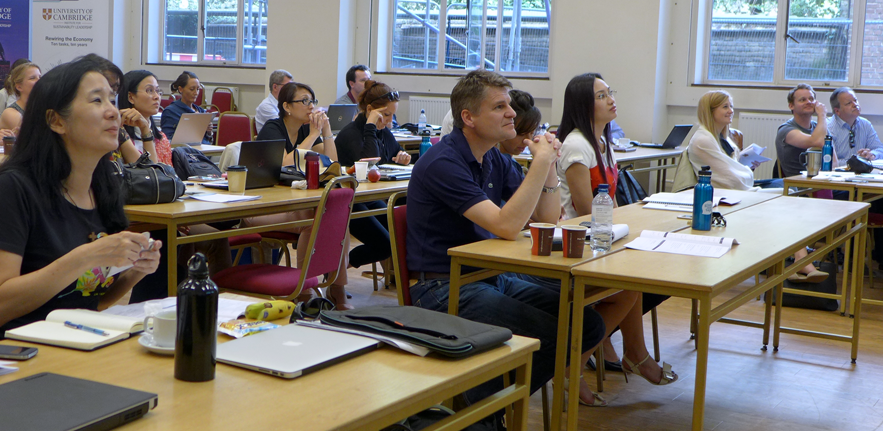 Participants with at least 3 years of work experience build upon and share their professional knowledge and expertise resulting in access to diverse international and industry perspectives. Each programme uses a series of short, intensive residential workshops held in Cambridge, together with a remote learning platform and written assignments to deliver a world-class education that is also compatible with a full-time job.
CISL's postgraduate programmes are intentionally not aimed at particular industries; instead, they bring together international and interdisciplinary cohorts. This diverse cross-pollination of knowledge and experiences adds significantly to the educational experience by exposing participants to different perspectives. In fact, students rate the learning gained from their high-calibre classmates to be at least as valuable as the learning gained from the expert contributors.
Participants also join a worldwide network which becomes a future resource for professional expertise and peer support. The individual written assignments and exercises at the residential workshops help to integrate sustainability thinking and action into the systems and structures that participants work with every day.
Creating sustainable supply chains and value chains
The scope of sustainability activities is diverse and has various levels of impact on the food and drink industry. With that in mind, many professionals are choosing to specialise in niche areas of sustainability, such as supply chains and value chains. These can expose businesses to operational and reputational risks, many of which have been highlighted in recent high-profile cases relating to: working conditions in clothing and electronics factories, adulterated food products, food price increases due to raw material scarcity and accidents in sub-contracted operations. Leading businesses are responding to such risks by ensuring that their supply/value chains are ethical and resilient and that they can demonstrate transparently that this is the case. But this complex strategy takes knowledge and experience.
"CISL's postgraduate programmes are intentionally not aimed at particular industries; instead, they bring together international and interdisciplinary cohorts."
Against this backdrop, many professionals are choosing to gain enhanced knowledge and skills of direct relevance to supply/value chains. To this end, participants from, for example GlaxoSmithKline, Tesco and Café Direct have recently attended CISL's Postgraduate Certificate in Sustainable Value Chains (PCSVC). This 9-month part-time course is designed to address the unique challenges associated with developing resilient and sustainable value chains that are fit for the future. The programme explores themes encapsulated by terms such as green procurement and responsible sourcing.
With organisations under increasing pressure to take greater responsibility for the full lifecycle impacts of their products and services, PCSVC helps sustainability professionals to understand how to influence and leverage opportunities via their value chain. For many companies, the positive and negative impacts across the whole value chain extend beyond activities under their direct control. In this regard, multinational companies in particular are finding they have to develop and maintain their 'licence to operate' by demonstrating tangible benefits to host communities or countries. Benefits delivered via the value chains can be far more significant than those that can be achieved via philanthropy or CSR initiatives. Hence enhancing value creation for a wider group of stakeholders is of growing importance.
Within leading companies there may be many 'islands' of good practice, including, for example, ethical sourcing, cleaner production, chain of custody certification, product labelling, and developing new 'green' products. However, to achieve an interconnected perspective, a systems approach is needed. To deliver maximum value to the business and society over the long term, sustainability professionals need to integrate across functions within the organisation and build positive relations with external stakeholders. During the PCSVC, emphasis is placed on crossfunctional teamwork and building mutually beneficial and effective relationships with stakeholders across the value chain. A range of product lenses are analysed ('cradle to cradle', 'farm to fork', 'bean to cup', etc.) to reveal the merits of up- and downstream linkages and feedbacks; participants are challenged to consider a full lifecycle perspective and not just focus on the procurement of inputs.
The PCSVC benefits from involving participants from all stakeholders involved with value chains, including supply chain management, procurement, operations, sales and marketing, business/product development, research and development, finance, strategy, and sustainability/social/environmental/ CSR specialists. Key external stakeholders, such as suppliers to businesses, NGO partners, community leaders and policymakers have also benefited from attending and add valuable insights.
Transferable skills for a sustainable future
The food and drink industry continues to tackle key sustainability issues. As a sustainability professional, education can support success providing the tools and knowledge to respond to opportunities and drive change. However with the ever-changing nature of the industry, education must be global, actionable and have longevity. The postgraduate courses designed by CISL give professionals access to a network of international practitioners, thought leaders and research from the University of Cambridge. The assessed work relates directly to the participant's organisation or sector and is designed to embed learnings from the programme and encourage implementation. Candidates who have successfully completed the PCSVC are welcome to apply to be considered for the Master of Studies in Sustainability Leadership. Alternatively, alumni who want to continue their formal learning in a more flexible and practitioner-focused professional development route may use the credit gained toward upgrading to the Postgraduate Diploma in Sustainable Business.
---
Accredited by the University of Cambridge, our part-time graduate courses are open for applications until Thursday 31 March.
---
This article was first published on the Food Science & Technology website.